Hair Straightening Guide For Curly Hair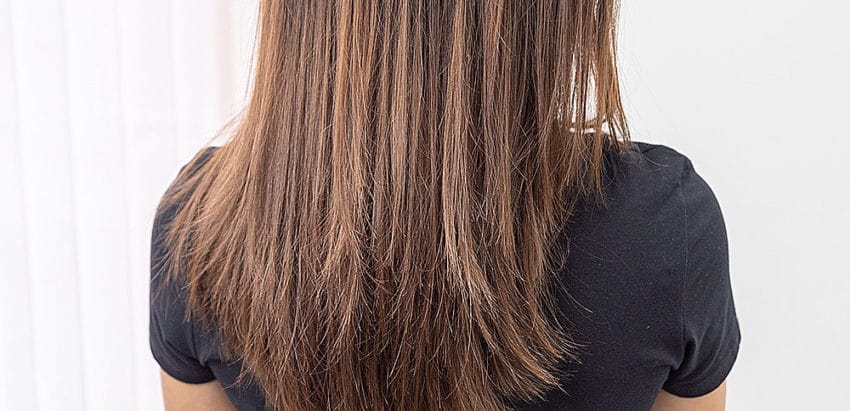 Curly hair is unmanageable at most times and one way to make your unruly mane look sleek is by straightening it. But straightening curly hair is not a walk in the park and you may need the to go to a hair straightening salon. So, here is everything you need to know about straightening your curly hair.
Step-By-Step Instructions For Straightening Curly Hair Using A Flat Iron
Here is a step-by-step guide on how to perfectly straighten your curly mane and make your hair look sleek and straight for longer.
Firstly, you need to start off with clean hair. You want to shampoo and condition your hair nicely and focus on the scalp when shampooing. You don't want any product build-up or sebum in your hair, as it will affect the final results. As for the conditioner, you want to focus it more on the length of your hair.
Once you're out of the shower, it's a good time to spritz in some leave-in conditioner. You want to apply a small amount. The goal isn't to make your hair look greasy. It's just going to deal with any frizziness which comes along with the process of letting your hair dry.
Now, you want to let your hair dry. You don't want to straighten your hair until it's about 80 to 90% dry. If you straighten sopping wet hair, then you better be mentally prepared for the massive frizz attack on your hair.
Now that the hair is almost dry, you can set the desired temperature on the flat iron and let it get hot. Apply some heat protectant and let it sit for a couple of minutes and then you can start straightening your hair. Work from the nape of the neck and go up. Make sections and tie the rest of your hair up on the crown of your head. If your hair is starting to get frizzy or dry during the straightening process, have a water bottle nearby and spray the root of the hair with a bit of water to tame it and brush it out. This will ensure that frizz doesn't occur when you go and straighten this section of hair.
Once you have all of the sections straightened out, and be warned, because this process is the most time-consuming and it will take you a while, run your fingers through your hair and make sure to go over your roots with a flat iron again, just to make things look even. Lastly, set the style in place with a strong-hold hair spray and you're done.
If you have hair extensions you go from salons that do hair extensions Potomac, you can straighten as well with the same steps.
Things To Remember
Here are some things to keep in mind when straightening your curly hair. Following these tips will give you the best results.
Always Condition Your Hair
This is a very important tip to remember. Curly hair is usually on the drier side and once it has been straightened, it can look extremely dull and frizzy. In order to combat this, you will need to do a little prep before you straighten your hair. During your shower, make sure to use a deep conditioner for your hair. This is going to make your locks soft and straightening them afterwards will be a piece of cake.
Try to leave your conditioner on for longer, about 15 to 20 minutes, to get the best results. This will also ensure that frizz isn't a problem once you straighten your hair. Your mane will look sleek, soft, silky, and free from frizz and you will fall in love with the look and feel of your hair.
Blow Dry Your Hair In The Right Direction
This is also another thing that you need to keep in mind. Blow drying can be a hit or miss for people with curly hair. The main reason for this is the lack of knowledge of the technique that's involved in blow drying your curly hair. Curly hair is naturally quite poofy and voluminous, so you want to retain some of the volume, once it's silky straight.
The best way to achieve volume when blow-drying your hair is to move the strands away from the face, and up towards the scalp. This is going to ensure that there is volume in your hair, even after it's been straightened and the overall look will be gorgeous.
Avoid Overuse Of Products
A general rule of thumb about straightening your hair is that you don't want to drench your hair and scalp in products. This is actually going to ruin the look of your hair and your hair will end up looking greasy and frizzy and they won't be straight and sleek either. Keep your hair and scalp clean when you're getting ready to straighten your hair.
This is why it's recommended that you straighten your hair after washing it because you will achieve the best results. All you really need to apply on your hair is a bit of leave-in conditioner and heat protectant, to help with hair damage control.
Play Around With The Temperature
Temperature is a key player in how your hair is going to look. One temperature setting doesn't work for all people. Different people have different hair textures, thickness, and densities and you need to know your ideal temperature range, in which the hair will be straightened beautifully without being matted or damaged.
This is why it's important that you play around with the temperature and always start with a lower heat setting and go your way up. This is going to lessen the damage in your hair and you will find the perfect straight hair "sweet spot", in terms of temperature.
Thickness Of The Sections
The thinner the sections are, the more effectively the flat iron will straighten your hair. Curly hair is normally quite thick and dense and you want to work in thin sections, in order to ensure the best results. This is why you need to be extremely patient when straightening your hair because you want the entire hair to be uniform and straight at the end.
You can't risk any bumps and kinks in your hair, after the fact. This is why dealing with thinner sections is important. It might take you some time, but you will get there.
The Quality Of The Flat Iron Matters
You want to make sure that you are straightening your hair with the right tool. A good quality flat iron will make all of the difference and it can also make your hair look shiny and healthier.
You want to select a flat iron that has ceramic plates because it will distribute the heat evenly through the strands and it will not tug on your hair and make it brittle. You also want to select a flat iron that has a lot of heat setting options, because it will make it much easier to regulate and control the temperature, according to your hair.
Conclusion
With these tips, you can be sure that your hair will look effortless and sleek at all times. There will be zero frizz and no hair will be out of place. Your hair will remain straight for until the next wash. If you want to have straight hair for weeks, consider keratin treatment by hairstylist Potomac.