Which Materials Are Used For Walkways?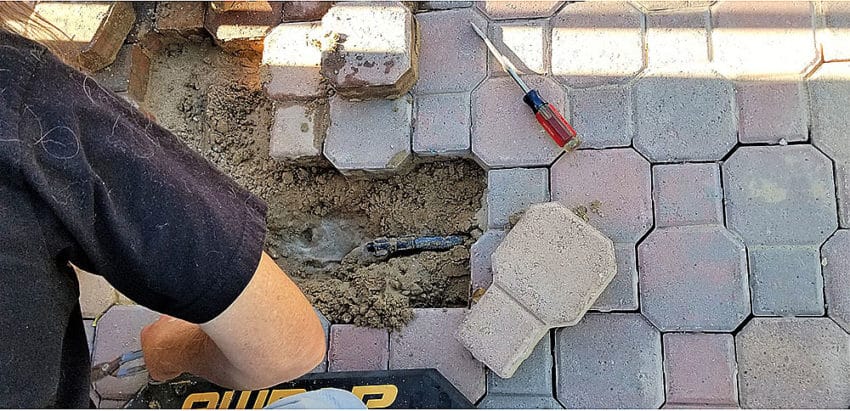 Walkways are an important addition allowing practicality and improving the visual appeal of the house. However, considering the material types, it could be difficult to come up with the perfect walkway. But there's no need to panic. We are going to list down some important types in detail to help you do your homework before connecting with patio builders.
Mulch
Perhaps the most affordable and easiest material to work with is mulch. Essentially, mulch is used to keep the weeds at bay. This is why homeowners commonly use mulch around trees and shrubs. But you can also use it to create a walkway.
The best thing about using mulch is that it takes not more than a few minutes or an hour at max depending on the walkway, to create. It offers a natural, earthy feel and helps your walkway and other natural items in the surroundings to blend in with each other.
However, keep in mind that mulch will break down over time and will need to be replaced. In addition to that, mulch comes in several different types as well. You can choose between wood chips and cypress bark which tend to be the most common types.
Depending on the type, the cost of the mulch will vary too.
Gravel
Another noteworthy option is gravel. Gravel is also a budget-friendly option if you are looking for something that does not break down like mulch. Additionally, laying down gravel to create walkways is neither expensive nor time-consuming.
Plus, you get many options in the form of pea gravel, crushed stone, river rock, landscape rock, etc. Pea gravel tends to be the most common as flowing water tends to round up its shape making it easier to walk on. However, gravel like mulch needs to be replaced or refilled.
It can easily find its way inside the house by being stuck to the shoes. Moreover, it can also enter the shoes and make it difficult to walk. Depending on the walkway, you might need a few hands to create a gravel walkway.
Pavers/Bricks
Pavers/bricks are a great option for walkways but tend to be relatively expensive. On the other hand, paver/bricks need to be installed and not only look gorgeous but come in several different shapes and sizes to help you achieve your dream walkway.
On top of that, you get to choose from several different types of pavers such as concrete pavers. Keep in mind that these pavers can be heavy to lift. So, you can either choose a professional to install them or do it yourself if you are willing to put in time and effort.
To keep the walkway looking fresh, you will need to maintain the pavers. Although they will last somewhere between 20 to 30 years, you will need to periodically wash them to maintain the finish. Otherwise, they will fade and will need to be replaced.
Bricks are popular for constructing outdoor fireplaces and kitchens. But you're not limited to bricks only. Talk to an outdoor kitchen contractor Long Island for details.
Poured Concrete
Poured concrete is a popular walkway material due to its durability and low maintenance. However, it is not as popular as garden walkways and other features. Additionally, poured concrete is generally suited to walkways in the front rather than the back.
The biggest advantage of a poured concrete walkway is that it can last 30 to 50 years without needing any major maintenance. Plus, it can withstand heavy human and vehicle traffic as well. However, you will need to consult a team that offers such services as building a poured concrete walkway requires using special materials and equipment.
Natural Stones
A walkway made using natural stepping stones makes it look natural and helps it blend with the surrounding trees and shrubs. Then again, you have several different options to choose from based on the size, type, color, and design. The most commonly used natural stones tend to be flagstone or fieldstone.
These are relatively thin stones that are placed based on the stride length. One of the things liked by most homeowners is that natural stepping stones do not have to be perfect. They will need resetting if they turn uneven but require little to no maintenance.
Asphalt
Asphalt is another material that is commonly used in driveways rather than garden walkways etc. But similar to poured concrete walkways, asphalt driveways or walkways are also used for the front. The reason asphalt is common for driveways is that they offer a nice, relaxing, and attractive surface. You may know asphalt more as a roofing material.
Even though you can use asphalt for your garden walkways, it is generally suited for other options. One of the reasons is that handling asphalt requires a team of professionals. On top of that, installation may be challenging considering landscaping, fences, and gates in your garden.
So, an asphalt walkway can be a difficult thing to achieve unless you are paying a hefty amount to the experts to get it done.
Dirt
This is the most affordable option on the list as you do not have to spend hundreds of dollars to create a walkway. Some people prefer the ultimate natural feel and look and all you need to do is pull up the grass and level the surface for strolling. You can also add borders to prevent soil from spreading to surrounding areas.
However, keep in mind that dirt can make things worse during extreme rainfall or snow. Having mud in your walkway will make it difficult to walk to other areas of the house. Plus, you will need to maintain the walkway by removing the weeds every once in a while.
Wood Planks
Wood planks are the most versatile option and are not only used for garden paths or walkways. These can be used for any type of walkway and will offer the feel of a Japanese garden. You can easily customize the planks based on the design of your walkway and are a lot easier to install than stepping stones or pavers.
When it comes to the types, you can choose from treated wood planks, cedar decking woods, or even recycled planks from used pallets. The type you choose depends on the looks you are trying to achieve and the amount of money you are willing to spend.
In addition to that, maintenance will also vary based on the wood type. Neglecting stains and all will easily impact the finish. So, you will need to schedule weekly washing maintenance.
Slate Chips
Finally, slate chips are a very versatile option that comes in small different-size pieces to create a beautiful walkway. These chips will surely help your walkway stand out as a major feature of the house. You can customize the size and shape based on your preferences and have them laid down for your walkway.
You can purchase them in bulk from your local landscaping company and all you need to do is rake them regularly to maintain them.
Conclusion
As you can see, materials used for walkways come in different sizes, shapes, types, etc. That aside, it is important that you define the purpose, needs, and preferences. Plus, you will need to consider the budget. Once you have made up your mind, you get to choose from the options mentioned above. Keep in mind that some materials you can handle yourself while others will need a patio contractor Long Island.